95 96 97 98 99 00 01 02 03 04 05 Sunfire Cavalier sedan right pass door mirror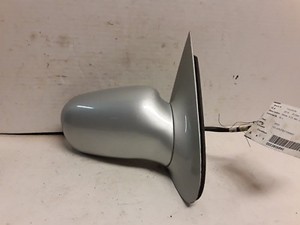 ---
04 05 Nissan Maxima variable speed wiper switch OEM  welcome to Fort Hill International Auto Parts Description

1995 through 2005 Pontiac Sunfire sedan, Chevrolet Cavalier sedan excludes Z24 models, right passenger power door mirror in silver.   Three wires to the plug. 

Verify Your Part Numbers To Ensure Proper Fit and Operation.  Matching the year and vehicle is not always enough because there may be several variations of the part.  This Is Your Responsibility To Make Sure The Part Is What You Need, And Will Work With Your Application. Your Part Numbers Need to MATCH To Be Sure! If you are purchasing any item that is electronic in nature such as Radio's, Air Bag Control Modules, ECM, ECU, Please be aware that you may have to have the item programmed in order to function with your vehicle. Some will simply plug and play without programming. We Do NOT Supply Radio Unlock codes, They can be accessed from your local dealer, or manufacturers web site.  

Don't Need The Whole Thing? Sometimes We Can Sell Parts From A Part Such As Steering Columns or Air Bag Sets Etc. Make Us An Offer On The Part You Need.

T387-3806890

 

Payment
Ready to order? We accept Paypal which allows you to pay with most major credit cards.
Shipping
We ship all orders within 24 hours. However it is up to you to choose the speed in which your item will arrive. All items come with free tracking which is uploaded to you once the postage is generated. We offer several shipping options please be sure to choose the one that will work best for you. Remember shipping times are only estimates and in no way a guarantee of arrival time.
Terms of Sale
Thank you for choosing Fort Hill International.  All of our parts are used and in good working order when removed from the donor vehicle. Some electronic parts will have to be programed by a dealer or mechanic in order to work properly. Some Radios will require codes to "Unlock" them, others just plug and play. RDS Radios almost always have to be dealer installed. Codes can be obtained from your local dealer or over the net by typing "radio codes" into your browser. We do not supply codes or cover installation expense. If your unsure if your part needs programing contact us or your dealer before purchase and we will do our best to help you out. 
 

. 

Contact Us
Email with specific Questions, Its up to you to verify interchange and that this is the part you need.  
Return Policy

1. Please contact us before returning any item, Lets try to work it out first.

2. All parts are used and in good working order to the best of our knowledge. At times your dealer may have to reprogram your vehicles computer in order for the replacement part to work correctly. This Includes Some Radios, Air Bag Modules, and Computers. Some Will Simply Plug N Play. 

3. If you ordered the wrong part shipping charges will not be refunded.  If your order had free shipping on it, the original shipping charges will be deducted from the refund. If it is our error or the part is defective we will refund your original shipping charges. You are still responsible for returning the item. 

4. Buyer Pays Return Shipping.

5. As is parts are just like it says and are not returnable for any reason.

6. We do not guarantee color matching on parts. 

6. All costs associated with installation are the buyers responsibility.

7. You are responsible for making sure you are ordering the correct part for your application. 8. In the event you need to return your item please make sure the original tag is included. All of our parts are marked prior to shipment for identification purposes. These ID marks must be on the part in order for the return to be accepted

250+ Listing Templates!Auctiva gets you noticed!

The complete Selling Solution. Track Page Views WithAuctiva's FREE Counter